St. Jerome School at-a-glance
Private K-8 classical education and preschool program
Our Location
384 Roselawn Avenue
Maplewood, MN, 55117
United States
School Hours
Start Time 9:30 AM
Release Time 3:45 PM
Tuition
$4,315* for the 2019-20 school year (K-8)
*Financial aid available
Addressing your child's needs
Partner with our teachers and staff...
...to provide learning environments where your child can thrive
At St. Jerome, we are dedicated to creating a safe, warm environment that helps your student flourish inside and outside of the classroom. Our teachers and staff make it a point to partner with families to address the language or learning needs of each student.
Fast friendships and supportive staff
"St. Jerome makes me feel wanted."
– 3rd grader responding to the question, "What does St. Jerome mean to you?"
a family that supports one another
Your child will shine at St. Jerome. As part of a community that values caring for each other, celebrating success, and reaching for excellence, you and your family will be welcomed and become an integral part of St. Jerome.
a culture that celebrates virtuous behavior
Outstanding test scores and outcomes are important in measuring success, but the joy of life, respect for others, and dedication to serving greatly account for student achievement.
a community joyfully living out their Christian faith
Students have many opportunities to grow in their faith. Whether in class or in weekly Catholic Mass, the St. Jerome community brings with it all of the very best qualities of a thriving faithful community.
An outstanding classical education experience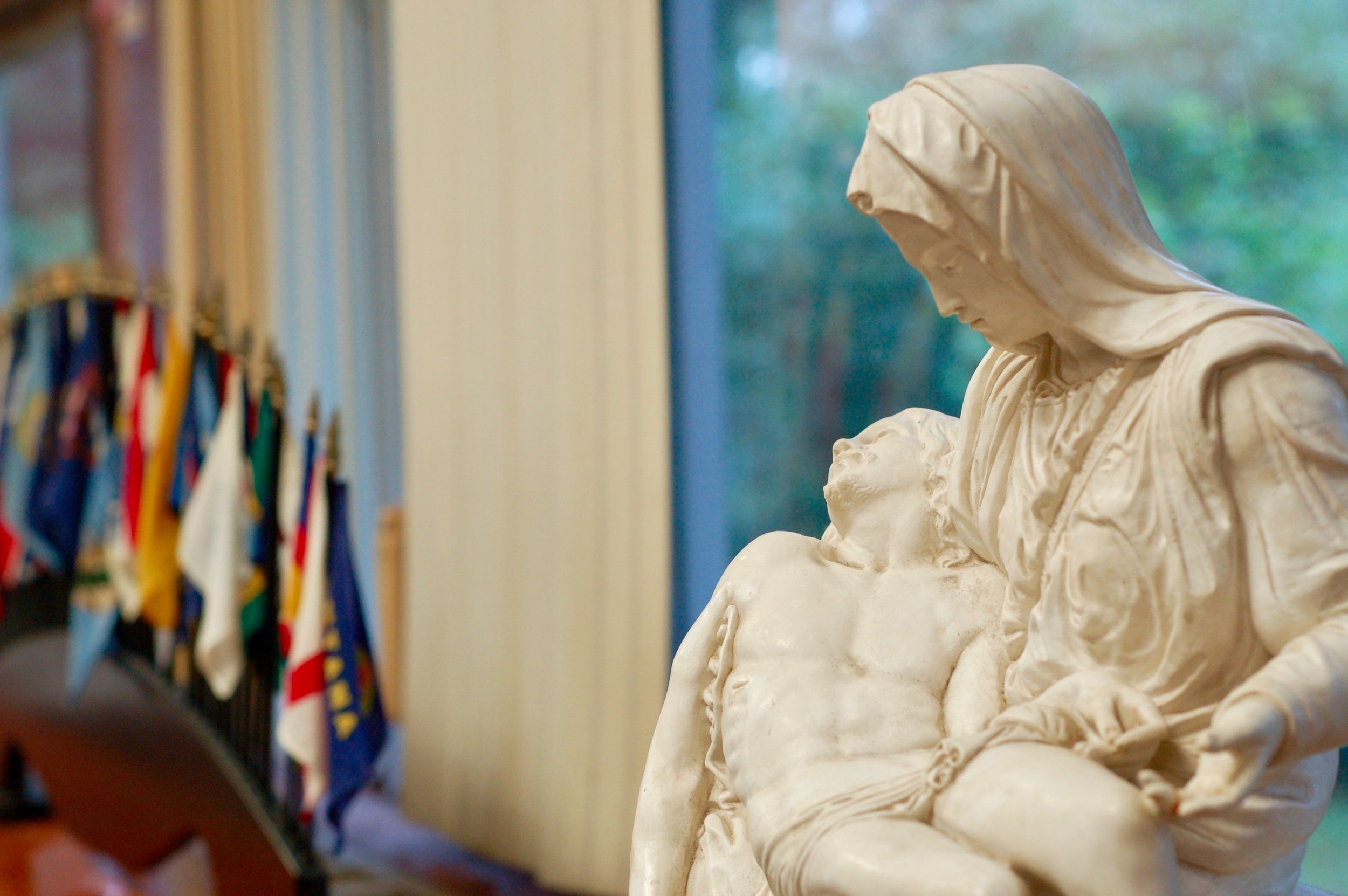 Classical Curriculum at St. Jerome School
What is classical education?
Classical education develops the whole person and relies on the natural stages of development that all children go through as they grow up. By leveraging this knowledge, the classical model is able to teach more effectively and reach students where they are.
Should we expect anything new or different?
Short answer is that students will notice that very little is lost or subtracted with this new approach (although much is gained!). Students will still have many of the same classes including science, math, religion, and language arts. But they will likely notice ways in which their studies in each subject are enhanced and enriched by the classical approach. Students will also notice the addition of a Latin program in 1st-8th grade and the new Humanities Core class in each grade. The Humanities Core will combine history, literature and religion--this means that the study of Christ and the Church, great books, and history will be brought to life as students see the connections between them.
The developmental stages within the classical model
Below are two of the three stages of learning within the traditional classical education model.
The Grammar Stage
Younger students are really good at memorizing things. They also love reciting things and taking in knowledge. At this age, their brains are like a sponge. In the classical model these years are called the grammar stage. Students will be focusing on these kinds of skills and building on them at this stage.
The Logic Stage
As most of us know, middle school students like to argue. They want to know what's going on, they want to ask why a lot, and they want reasons for things. This stage of learning is called the logic stage within the classical model. We actually build on this tendency in the middle-school years and use it to teach students how to argue well and find answers.
St. Jerome School serves children from preschool through eighth grade, including before and after school care. For the 2018-19 school year and beyond we are transitioning to a classical "liberal arts" model. We are an affordable Catholic school and we offer tuition assistance to families who qualify through the TADS process. Our strong academic core classes include: religion, math, language arts, science, social studies. Next year we will integrate history, religion and literature into a humanities block and introduce Latin in grades 1-8. We have specialists in music, physical education, computers and library. Our students consistently score well on standardized tests.
Our students attend an all school mass every Wednesday at 9:45. Each week a different class helps with the mass and offers a reflection on the readings, usually a skit. We also have opportunities for a children's choir during weekly mass and throughout the year.
St. Jerome School is beautifully culturally and socioeconomically diverse. We have students with different learning abilities, including down syndrome and autism. Our arms are open and our hearts are ready. There are many opportunities for students to become involved in extra curricular activities. Our sports program offers soccer, basketball, baseball, volleyball, softball, swimming, and track. We also offer band, individual voice, piano and guitar lessons.
We embrace the social teaching of the Catholic Church so local service to the poor and our neighboring elderly is integral to our community. We greatly value the volunteer contributions of our parishioners, parents and grandparents.
Come see us at St. Jerome School! Take a tour, visit with our principal, and get a feel for why so many thrive at our school.